C19TEAM of Apple Orange Resistance Candidates for No Lockdowns & interest-free Bank of Canada credit cards

Vote John SMARTEST MAN ON EARTH.CA 'S C19 Apple-Orange Resistance Team of candidates for No Lockdowns and interest-free Bank of Canada credit card to pay off all interest-bearing debts with all payments then going against the Principal to eventually get out of debt.

"We made a big mistake" said Dr. Bridle in alarm,
"We didn't know the spike could travel, heart and brain to harm."
When spike attaches in an artery, we find the flow,
Impaired enough to have the blood clots start around to grow.
Clots start in capillaries so you'll not yet feel the threat.
As pumping blood gets harder, watch as bigger clots you'll get.
Would you have taken clot shot if Judge Aylen us had told,
"Mortality rate fudged to hype the danger hundredfold?"
From: http://SmartestMan.Ca/fauci

https://rumble.com/vlyapn-brantford-brant-2021-election-anti-covid-restrictions.html is a 2-minute presentation on the Covid Mortality Hyped Hundredfold for the Brantford-Brant Chamber of Commerce debate to which I was not invited covered by Rogers TV. The Broadcast Act says stations must give an equitable share of free time to all rival candidates so Rogers gets the Chamber of Commerce to do the cheating and they just report on it.

https://www.amazon.com/dp/b09dfgld8d is my new book Covid Mortality Hyped Hundredfold on our Federal Court case against lockdown.

In 2019 election, 11 Parties: "AB Abolitionist; AN Alliance du Nord; CA Canadian Action;
CH Christian Heritage, FD Forces & Democratie; MJ Marijuana; ML Marxist-Leninist;
PA Party for Accountability; PC Progressive Canadian; RH Rhino; UN United and IN Independents.

VIDEO: SmartestMan.Ca Bank of Canada Accounts Campaign 2015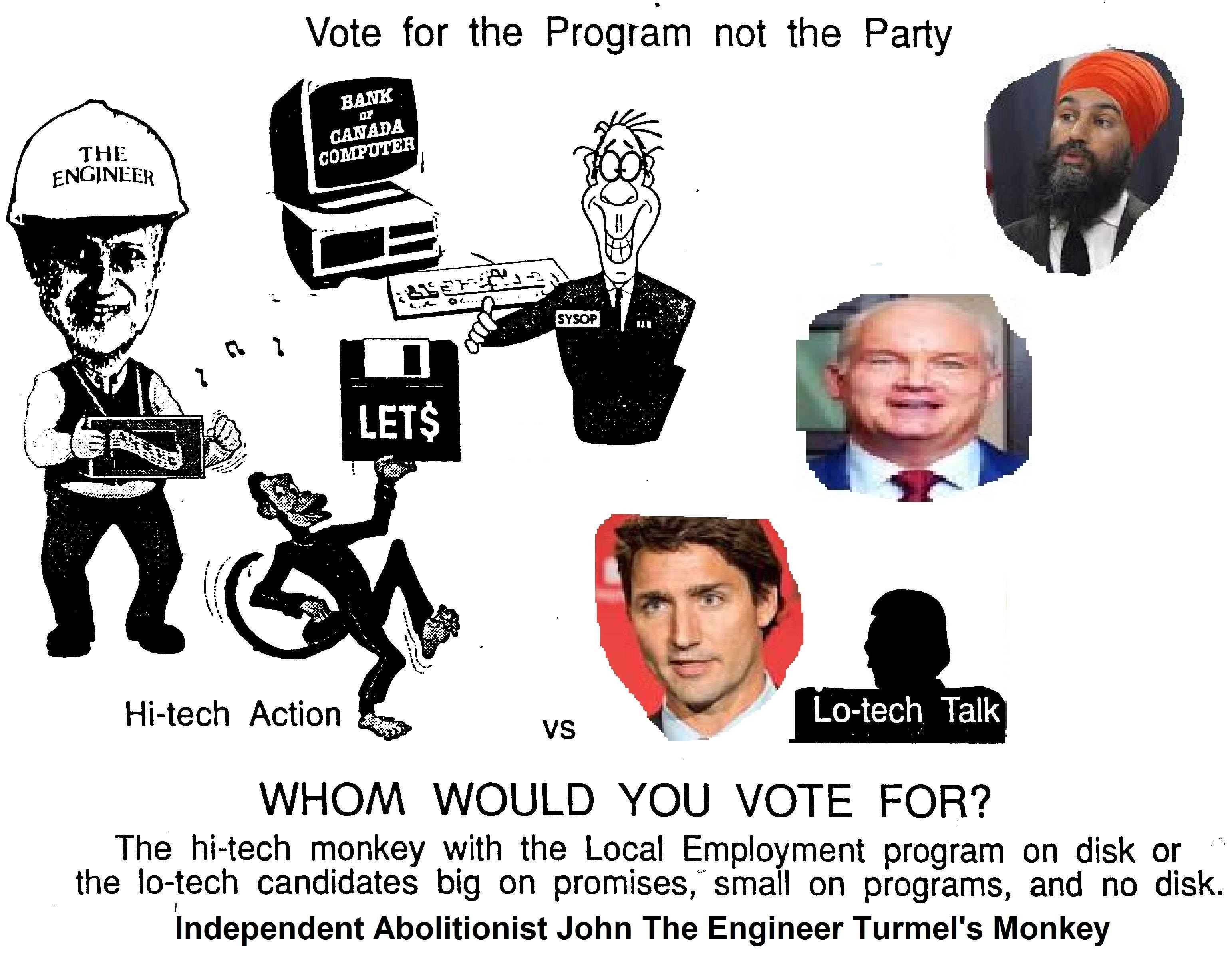 My 1993 cartoon when I ran for Prime Minister as Leader of the Abolitionist Party of Canada had Chretien, Campbell, et al. Just O'Toole for the Tories. There is a difference between a candidate with a program and those without.

VIDEO: SmartestMan.Ca for Canada P.M.
Jct: John The Engineer Turmel explains why the http://SmartestMan.ca |is running for Prime
Minister of Canada and asking in the courts to nix Pot charges in Ontario.

https://www.youtube.com/watch?v=Msw_vGhWVKc&list=PLYEOvpWV5TtUjn-kuz8R2KnvbDPLZPBo4
is a playlist Turmel Student Vote Playlist of short videos in answer to the questions of young students during the 2014 Ontario General Election hoping they could explain it to their parents.
2021 ELECTION CANDIDATES
AB: Abolitionist; CH: Christian Heritage; FP: Free; GR: Green; LB: Libertarian; ML: Marxist-Leninist; PA: Patriot; RH: Rhino; IN: Independent
In past elections, I filled out the roster with Green candidates who would be most likely to support interest-free Bank of Canada credit cards because the interest-free LETS software was on their party program in 1988. This year, I will fill out the roster with People's Party candidates who would be most likely to support ending lockdowns because the Covid Mortality Hyped Hundredfold after giving Greens who support ending lockdowns a first chance. .

ALBERTA
PP: Banff-Airdrie NADINE WELLWOOD
PP: Battle River-Crowfoot DENNIS TREPANIER
CH: Bow River TOM LIPP
CH: Calgary Centre DAWID PAWLOWSKI
ML: Calgary Confederation KEVEN HUNTER
PP: Calgary Forest Lawn DWAYNE HOLUB
RH: Calgary Heritage MARK DEJEWSKI
PP: Calgary-Midnapore JONATHAN HAGEL
CH: Calgary Nose Hill LARRY HEATHER
PP: Calgary-Rocky Ridge RORY MACLEOD
PP: Calgary-Shepard RON VAILLANT
PP: Calgary-Signal Hill NICK DEBREY
ML: Calgary Skyview DANIEL BLANCHARD
ML: Edmonton Centre MERRYN EDWARDS
ML: Edmonton Griesbach MARY JOYCE
ML: Edmonton Manning ANDRE VACHON
PP: Edmonton Mill Woods PAUL MCCORMACK
PP: Edmonton Riverbend JENNIFER PEACE
LB: Edmonton Strathcona STINSON MALCOLM
ML: Edmonton West PEGGY MORTON
PP: Edmonton-Wetaskiwin TYLER BEAUCHAMP
PP: Foothills DANIEL HUNTER
PP: Fort McMurray-Cold Lake SHAWN MCDONALD
RH: Grand Prairie-Mackenzie DONOVAN ECKSTROM
PP: Lakeland ANN MCCORMACK
CH: Lethbridge GEOFF CAPP
PP: Medicine Hat-Cardston-Warner BRODIE HEIDINGER
PP: Peace River-Westlock DARRYL BOISSON
LB: Red Deer-Mountain View - JARED PILON
PP: Red Deer-Lacombe MEGAN LIM
PP: Sherwood Park-Fort Saskatchewan JOHN WETTERSTRAND
PP: St. Albert-Edmonton BRIGITTE CECELIA
CH: Sturgeon River-Parkland JEFF WILLERTON
PP: Yellowhead MICHAEL MANCHEN
BRITISH COLUMBIA
PP: Abbotsford KEVIN SINCLAIR
PP: Burnaby North-Seymour BRADLEY NICKERSON
PP: Burnaby South MARCELLA WILLIAMS
CH: Cariboo-Prince George HENRY THIESSEN
PP: Central Okanagan-Similkameen-Nicola KATHRYN MCDONALD
PP: Chilliwack-Hope ROB BOGUNOVIC
PP: Cloverdale-Langley City IAN KENNEDY
PP: Coquitlam-Port Coquitlam KIMBERLY BRUNDELL
ML: Courtenay-Alberni BARBARA BILEY
PP: Cowichan-Malahat-Langford MARK HECHT
PP: Delta PAUL TARASENKO
PP: Fleetwood-Port Kells AMRIT BIRRING
PP: Esquimalt-Saanich-Sooke ROB ANDERSON
PP: Kamloops-Thompson-Cariboo CORALLY DELWO
PP: Kelowna-Lake Country BRIAN ROGERS
PP: Kootenay-Columbia SARAH BENNETT
PP: Langley-Aldergrove RAYNA BOYCHUK
PP: Mission-Matsqui-Fraser Canyon TYLER NILES
PP: Nanaimo-Ladysmith STEPHEN WELTON
PP: New Westminster-Burnaby KEVIN HEIDE
ML: North Island-Powel River CARLA NEAL
PP: North Okanagan-Shuswap KYLE DELFING
PP: North Vancouver JOHN GALLOWAY
RH: Pitt Meadoes-Maple Ridge PETER BUDDLE
ML: Port Moody-Coquitlam ROLAND VERRIER
PP: Prince George-Peace River-Northern Rockies RYAN DYCK
PP: Richmond Centre JAMEDS HINTON
PP: Saanich-Gulf Islands DAVID HILDERMAN
CH: Skeena-Bulkley Valley ROD TAYLOR
PP: South Okanagan-West Kootenay SEAN TAYLOR
PP: South Surrey-White Rock GARY JENSEN
PP: Steveston-Richmond East JENNIFER SINGH
CH: Surrey Centre KEVIN PIELAK
PP: Surrey-Newton PAMELA SINGH
PP: Vancouver Centre TAYLOR SINGLETON-FOOKES
LB: Vancouver East GOLOK Z BUDAY
PP: Vancouver Granville DAMIAN JEWETT
ML: Vancouver Kingsway DONNA PETERSON
PP: Vancouver Quadra RENATE SIEKMANN
ML: Vancouver South ANNE JAMIESON
PP: Victoria JOHN RANDAL PHIPPS
PP: West Vancouver-Sunshine Coast-Sea to Sky Country DOUG BEEB
MANITOBA
PP: Brandon-Souris TYLOR BAER
PP: Charleswood-St. James-Assiniboia-Headingley ANGELA VAN HUSSEN
PP: Churchill-Keewatinook Aski DYLAN YOUNG
PP: Dauphin-Swan River-Neepawa DONNAN MCKENNA
PP: Elmwood-Transcona JAMIE CUMMING
PP: Kildonan-St. Paul SEAN HOWE
CH: Portage-Lisgar JEROME DONDO
PP: Provencher NOEL GAUTRON
PP: Saint Boniface-Saint Vital JANE MACDIARMID
PP: Selkirk-Interlake-Eastman IAN KATHWAROON
LB: Winnipeg Centre JAMIE BUHLER
PP: Winnipeg North PATRICK NWILAN
PP: Winnipeg South BYRON GRYBA
PP: Winnipeg South Centre CHASE WELLS
NEW BRUNSWICK
FP: Acadie-Bathurst RICHER DOIRON
FP: Beausijour Isabelle SAURIOL CHIASSON
LB: Fredericton BRANDON KIRBY
PP: Fundy Royal WAYNE WHEELER
FP: Madawaska-Restigouche LOUIS BERUBE
PP: Miramichi-Grand Lake RON NOWLAN
PP: Moncton-Riverview-Dieppe LORILEE CARRIER
PP: New Brunswick Southwest MARYL SARTY
PP: Saint John-Rothesay NICHOLAS PEREIRA
PP: Tobique-Mactaquac DANIEL WAGGONER
NEWFOUNDLAND AND LABRADOR
PP: Avalon LAINIE STEWART
PP: Bonavista-Burin-Trinity LINDA HOGAN
PP: Coast of Bays-Central-Notre Dame
PP: Labrador SHANNON CHAMPION
PP: Long Range Mountains DARRELL SHELLEY
PP: St. John's East DANA METCALFE
PP: St. John's South-Mount Pearl GEORGIA STEWART
PP: NORTHWEST TERRITORIES
PP: Northwest Territories*
NOVA SCOTIA
PP: Cape Breton-Canso BRAD GRANDY
RH: Central Nove RYAN SMYTH
PP: Cumberland-Colchester BILL ARCHER
PP: Dartmouth-Cole Harbour MICHELLE LINDSAY
PP: Halifax ALEX HEBERT
CH: Halifax West KEVEN SCHULTHIES
PP: Kings-Hants STEVEN FORD
PP: Sackville-Preston-Chezzetcook EARL GOSSE
PP: South Shore-St. Margarets
ML: Sydney-Victoria NIKKI BOISVERT
PP: West Nova SCOTT SPIDLE
NUNAVUT
PP: Nunavut NATHAN JEWETT
ONTARIO
PP: Ajax LEIGH PAULSETH
CH: Algoma-Manitoulin-Kapuskasing CLARENCE BAARDA
LB: Aurora-Oak Ridges-Richmond Hill - SERVE KOROVITZYN
PP: Barrie-Innisfil CORRADO BRANCATO
PP: Barrie-Springwater-Oro-Medonte CHRIS WEBB
PP: Bay of Quinte JANINE LECLERC
ML: Beaches-East York PHILIP FERNANDEZ
IN: Brampton Centre RONNI SHINO
PP: Brampton East MANJEET SINGH
Brampton North
PP: Brampton South NICHOLAS CRANIOTIS
PP: Brampton West RAHUL SAMUEL
AB: Brantford-Brant JOHN TURMEL
PP: Bruce-Grey-Owen Sound ANNA-MARIE FOSBROOKE
RH: Burlington JEVIN DAVID CARROLL
PP: Cambridge MAGGIE SEGOUNIS
PP: Carleton PETER CRAWLEY
PP: Chatham-Kent-Leamington LIZ VALLEE
PP: Davenport TARA DOS REMEDIOS
PP: Don Valley East PETER DE MARCO
PP: Don Valley North JAY SOBEL
PP: Don Valley West MICHAEL MINAS
PP: Dufferin-Caledon ANTHONY ZAMBITO
RH: Durham ADAM SMITH
PP: Eglinton-Lawrence TIMOTHY GLEESON
CH: Elgin-Middlesex-Longon MICHAEL HOPKINS
CH: Essex JEREMY PALKO
PP: Etobicoke Centre MAURICE CORMIER
RH: Etobicoke-Lakeshore SEAN CARWON
PP: Etobicoke North JIM BOUTSIKAKIS
PP: Flamborough-Glanbrook BILL PANCHYSHYN
FP: Glengarry-Prescott-Russell MARC BISAILLON
PP: Guelph JOSHUA LEIER
CH: Haldimand-Norfolk CHARLES LUGOSI
LB: Haliburton-Kawartha Lakes-Brock GENE BALFOUR
PP: Hamilton Centre KEVIN BARBER
PP: Hamilton East-Stoney Creek MARIO RICCI
CH: Hamilton Mountain JIM ENOS
RH: Hamilton West-Ancaster-Dundas SPENCER ROCCHI
PP: Hastings-Lennox and Addington JAMES BABCOCK
ML: Humber River-Black Creek CHRISTINE NUGENT
PP: Huron-Bruce JACK STECHO
PP: Kanata-Carleton SCOTT MILLER
PP: Kenora CRAIG MARTIN
PP: King-Vaughan GILMAR OPRISAN
PP: Kingston and the Islands SHELLEY SAYLE-UDALL
PP: Kitchener Centre DIANE BOSKOVIC
PP: Kitchener-Conestoga DEVIN DUPUIS
RH: Kitchener South-Hespeler STEPHEN DAVIS
PP: Lambton-Kent-Middlesex KEVIN MITCHELL
RH: Lanark-Frontenac-Kingston BLACK HAMITON
PP: Leeds-Grenville-Thousand Islands and Rideau Lakes ALEX CASSELL
PP: London-Fanshawe KYLE FREE
PP: London North Centre MARC EMERY
LB: London West JACQUES BOUDREAU
PP: Markham-Stouffville RENE DE VRIES
PP: Markham-Thornhill ILIA PASHAEV
Markham-Unionville
PP: Milton SHIBLI HADDAD
PP: Mississauga Centre ELIE DIAB
ML: Mississauga East-Cooksville DAVMAR SULLIVAN
PP: Mississauga-Erin Mills MICHAEL BAYER
RH: Mississauga-Lakeshore KAYLEIGH TAHK
ML: Mississauga-Malton FRANK CHILELLI
PP: Mississauga-Streetsville GURDEEP WOLOSZ
PP: Nepean JAY NERA
PP: Newmarket-Aurora ANDRE GAGNON
PP: Niagara Centre MICHAEL KIMMONS
PP: Niagara Falls PETER TARAS
CH: Niagara West HAROLD JONKER
PP: Nickel Belt DAVID HOBBS
PP: Nipissing-Timiskaming GREGORY GALANTE
PP: Northumberland-Peterborough South NATHAN LANG
PP: Oakville JE MEANEY
PP: Oakville North-Burlington
FP: Orleans ANDRE CLEROUX
PP: Oshawa DARRYL MACKIE
PP: Ottawa Centre REGINE WATTEEL
PP: Ottawa South CHYLOW HALL
FP: Ottawa-Vanier CYRSTELLE BOURGUIGNON
CH: Ottawa West-Nepean SEAN MULLIGAN
CH: Oxford ALLEN SCOVIL
ML: Parkdale-High Park LORNE GERSHUNY
PP: Parry Sound-Muskoka JIM TOLE
PP: Perth-Wellington WAYNE BAKER
PP: Peterborough-Kawartha PAUL LAWTON
PP: Pickering-Uxbridge CORNELIU CHISU
PP: Renfrew-Nipissing-Pembroke DAVID AINSWORTYH
PP: Richmond Hill IGOR TVOROGOV
PP: St. Catharines REBECCA HAHN
CH: Sarnia-Lambton TOM LAIRD
PP: Sault Ste. Marie KASPER MAKOWSKI
PP: Scarborough-Agincourt ERIC MURAVEN
PP: Scarborough Centre PETRU ROZOVEANU
PP: Scarborough-Guildwood JAMES BOUNTROGIANNIS
PP: Scarborough North DAVID MOORE
PP: Scarborough-Rouge Park ASAD REHMAN
PP: Scarborough Southwest RAMONA PACHE
CH: Simcoe Grey KEN STOUFFER
CH: Simcoe North RUSS EMO
PP: Spadina-Fort York IAN RODEN
PP: Stormont-Dundas-South Glengarry DAVID ANBER
PP: Sudbury COLETTE METHE
PP: Thornhill SAMUEL GREENFIELD
PP: Thunder Bay-Rainy River ALAN AUBUT
LB: Thunder Bay-Superior North ALEX VODDEN
PP: Timmins-James Bay STEPHEN MACLEOD
PP: Toronto-Centre SYED JAFFERY
PP: Toronto-Danforth WAYNE SIMMONS
PP: Toronto-St. Paul's PETER REMEDIOS
PP: University-Rosedale DAVID KENT
PP: Vaughan-Woodbridge MARIO GRECO
PP: Waterloo PATRICK DOUCETTE
PP: Wellington-Halton Hills SYLVAIN CARLE
PP: Whitby THOMAS ANDROVIC
PP: Willowdale AL WAHAB
ML: Windsor-Tecumseh LAURA CHESNIK
ML: Windsor West MARGARET VILLAMIZAR
PP: York Centre NIXON NGUYEN
PP: York-Simcoe MICHAEL LOTTER
PP: York South-Weston SITARA CHIU
PRINCE EDWARD ISLAND
CH: Cardigan FRED MACLEOD
PP: Charlottetown SCOTT MCPHEE
PP: Egmont WAYNE BIGGAR
PP: Malpeque CHRISTOPHER LANDRY
QUEBEC
FP: Abitibi-Baie-James-Nunavik-Eeyou CEDRIC BRAZEAU
RH: Abitibi-Temisgamingue JOEL LIRETTE
PP: Ahuntsic-Cartierville MANON CHEVALIER
FP: Alfred-Pellan DWAYNE CAPPELLETTI
FP: Argenteuil-La Petite-Nation PAUL LYNES
FP: Avignon-La Mitis-Matane-Matapidia MELANIE GENDREON
FP: Beauce CHANTAL GIGUERE
FP: Beauport-Cote-de-Beaupre-Ile d'Orleans-Charlevoix CHANTAL LAPLANTE
FP: Beauport-Limoilou LYNE VERRET
FP: Becancour-Nicolet-Saurel ANDRE BLANCHETTE
FP: Bellechasse-Les Etchemins-Levis RAYMOND ARCAND
RH: Beloeil-Chambly THOMAS THIBAULT
FP: Berthier-Maskinongi DENIS BROWN
PP: Bourassa MICHEL LAVOIE
CH: Brome-Missisquoi SUSANNE LEFEBVRE
FP: Brossard-Saint-Lambert FANG HU
FP: Charlesbourg-Haute-Saint-Charles DANIEL PELLETIER
FP: Chateauguay-Lacolle ANDRE LAFRANCE
PP: Chicoutimi-Le Fjord JIMMY VOYER
FP: Compton-Stanstead DEITANE GENDRON
PP: Dorval-Lachine-LaSalle MICHAEL PATTERSON
FP: Drummond JOSEE JOYAL
FP: Gaspesie-Les Iles-de-la-Madeleine MONIQUE LEDUC
RH: Gatineau SEBASTIEN GRENIER
RH: Hochelaga ALAN SMITHEE
ML: Honore-Mercier YVES LE SEIGLE
RH: Hull-Aylmer MIKE LEBLANC
FP: Joliette MANON COUTU
RH: Jonquiere LINE "WALLACE" BELANGER
FP: La Pointe-de-l'Ile AGNES FALQUET
ML: La Prairie NORMAND CHOUINARD
GR: Lac-Saint-Jean ANNIE THIBAULT
PP: Lac-Saint-Louis AFIA LASSY
FP: LaSalle-Emard-Verdun PASCAL ANTONIN
FP: Laurentides-Labelle MICHEL LECLERC
FP: Laurier-Sainte-Marie JULIE MORIN
PP: Laval-Les +les MATTHIEU COUTURE
FP: Levis-Lotbiniere MARIEVE LEMAY
ML: Longueuil-Charles-LeMoyne PIERRE CHENIER
PP: Longueuil-Saint-Hubert MANON GIRARD
PP: Louis-Hebert
FP: Louis-Saint-Laurent MELANIE FORTIN
FP: Manicouagan BIANCA GIRARD
FP: Marc-Aurele-Fortin MICHELINE FLIBOTTE
FP: Megantic-L'Erable REAL PEPIN
FP: Mirabel ARIANE CROTEAU
BQ: Montarville STEPHANE BERGERON
FP: Montcalm ROBERT BELLEROSE
RH: Montmagny-L'Islet-Mamouraska-Riviere-du-Loup THIBAUD MONY
ML: Mount Royal DIANE JOHNSTON
CH: Notre-Dame-de-Grace-Westmount GEORFRYDE WANDJI
FP: Outremont GAETAN CUSSON
FP: Papineau CHABEN BEDARD MOHAMED
FP: Pierre-Boucher-Les Patriotes-Verchhres CAROLE BOISVERT
PP: Pierrefonds-Dollard MARK SIBTHORPE
FP: Pontiac GENEVIEVE LABONTE-CHARTRAND
RH: Portneuf-Jacques-Cartier TOMMY PELLETIER
FP: Quebec KARINE SIMARD
FP: Repentigny PIERRE DUVAL
RH: Richmond-Arthabaska MARJOLAINE DELISLE
FP: Rimouski-Neigette-Timiscouata-Les Basques MICHEL RAYMOND
FP: Riviere-des-Mille-Iles VALERIE BEAUSEJOUR
RH: Riviere-du-Nord JEAN-FRANCOIS RENE
ML: Rosemont-La Petite-Patrie GISELE DESROCHERS
RH: Saint Boniface-Saint Vital SEBASTIEN CORHINO
FP: Saint-Hyacinthe-Bagot SEBASTIEN DESAUTELS
FP: Saint-Jean JEAN-CHARLES CLEROUX
ML: Saint-Laurent GINETTE BOUTET
PP: Saint-Leonard-Saint-Michel DANIEL RITACCA
RH: Saint-Maurice-Champlain DJI-PE FRAZER
FP: Salaberry-Suroit MARCEL GOYETTE
FP: Shefford JOEL LACROIX
FP: Sherbrooke MAXIME BOIVIN
FP: Terrebonne NATHAN FORTIN DUBE
FP: Therese-De Blainville PETTY TASSIGNON
FP: Trois Rivieres GILLES BRODEUR
FP: Vaudreuil-Soulanges GINETTE DESTREMPES
ML: Ville-Marie-Le Sud-Ouest-Ile-des-Soeurs LINDA SULLIVAN
PP: Vimy ALEJANDRO MORALES-LOAIZA
SASKATCHEWAN
PP: Battlefords-Lloydminster TERRY SIEBEN
PP: Cypress Hill-Grasslands CHARLES HISLOP
PP: Desnethe-Missinippi-Churchill River DEZIRAE REDDEKOPP
PP: Carlton Trail-Eagle Creek MIKE BOHACH
PP: Moose Jaw-Lake Centre-Lanigan CHEY CRAIK
PP: Prince Albert JOSEPH MCCREA
PP: Regina-Lewvan ROD KLETCHKO
PP: Regina-Qu'Appelle ANDREW YUBETA
PP: Regina-Wascana MARIO MILANOVSKI
PP: Saskatoon-Grasswood MARK FRIESEN
CH: Saskatoon-University DR. CARL WESOLOWSKI
PP: Saskatoon West KEVIN BOYCHUK
PP: Souris-Moose Mountain DIANE NEUFELD
PP: Yorkton-Melville BRADEN ROBERTSON
YUKON
IN: Yukon JONAS JACOT SMITH

http://SmartestMan.Ca
http://johnturmel.com
Email johnturmel@yahoo.com
50 Brant Ave. Brantford N3T 3G7
Tel: 519-753-5122 Cell: 226-966-4754
John The Engineer Turmel Video Index
Abolitionist Party Programs Youtube: Abolitionist Party of Canada Programs