1 9 7 4: PIERRE TRUDEAU'S DEBT SCAM

Oh Canada's Debt National had much stability
Til Nineteen Seventy Four starts exponentiality.




Same in Ontario, Quebec, debts doubling over time,
Did debts all start to grow in big coincidence sublime?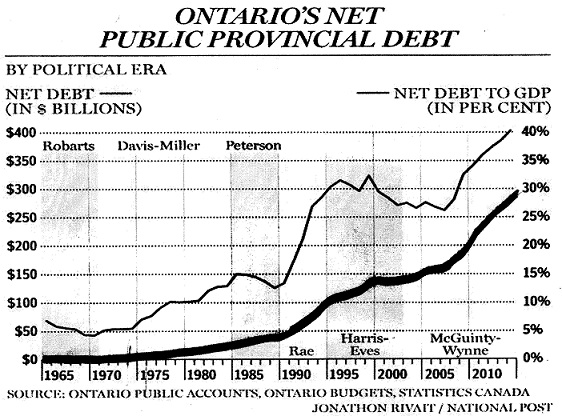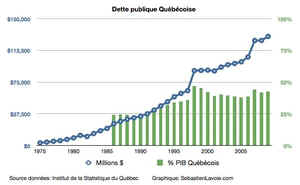 The Bank of Canada once loaned to Provinces and Fed,
Without the interest that causes budgets to turn red.
It financed major projects, made St. Lawrence Seaway be,
Trans-Canada was highway funded sea to shining sea.

Not only infrastructure, also paid for World War Two,
With interest-free cash, we almost nothing couldn't do.
The only question then was how the tax should be assessed,
For goods and services? A simple formula to test.

For services, they levied tax at end of every year.
For assets, tax to pay depreciation. Very clear.
With taxes only for depreciation and repair,
So easily affordable without the bankers' share.

But in Nineteen Seventy Four, Pierre Trudeau cut the feed,
Ruled: "No more interest-free loans for infrastructure need.
All governments must borrow now new funds from private banks,
And raise new tax to pay new interest with bankers' thanks."

I'll pay my tax for army and police to handle strife,
I'll pay my tax for doctors, nurses who protect my life,
I'll pay my tax for all engaged repairing road and sewer,
I'll pay my tax for social servants helping out the poor,

I'll even pay my tax for bureaucrats with no regret,
But I object to paying tax for interest on debt.
I'll gladly pay my tax for people's time at useful toil,
But taxing me for money's time will always make me boil.

But worse in Nineteen Sixty Eight, Pierre Trudeau'd lifted cap,
On interest from six percent to sixty, that's the rap.
In twelve years central bank rate rose to twenty-two percent.
More tax to service greater debt at higher rate was spent.

Percent of 30 was the rate at chartered banks we saw,
Percent of 40 rate by private lenders under law.
A million families evicted, "mort-gage" could not meet,
When Pierre's high-rate "death-gambles" put the victims on the street.

The reason foisted on them for such suffering high rates,
Was "Interest will fight Inflation!" Economics states.
What idiot thinks raising costs can lower prices high?
Yet fall for it, they did, the biggest Economics lie.

Pierre Trudeau is responsible for debts out of control,
For lifting rate cap, ending interest-free loans, his role.
Oh Canada sure could have offered all a living swell,
But Pierre in Nineteen Seventy Four turned Heaven into Hell.

While Justin could make loans again without the usury,
Can we expect but more bad fruit from father's crooked tree?
An Engineering drop-out, beta-boy though blooded blue,
Like dad, a silver spooner, with, for numbers, talents few.

Our taxes disappear since over 40 years ago,
For interest on Trudeau's debt we didn't have to owe.
If we got back $2 trillion taxed since Pierre helped banks, us, fleece,
Reversing algorithm gets back $60 Grand apiece!"

If Mr. Spock could at computer central all alone,
Debug bad code to save a planet from the danger zone.
No help he needed from the lo-techs slows who had no clue,
What Spock can do, The Engineer says: "I can do it too."

John Turmel's Written Blog
http://groups.google.com/forum/#!forum/alt.fan.john-turmel or https://groups.yahoo.com/neo/groups/turmel/conversations/messages
John Turmel's Home Page http://johnturmel.com
Facebook Wall: http://facebook.com/john.turmel
http://SmartestManOnEarth.Ca or http://SmartestMan.Ca for short.